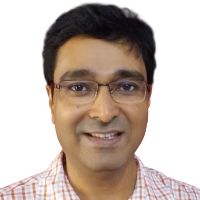 Sanjay Patel
Sanjay has about 30 years of programming and leading experience on developing large-scale applications. Since 2009, he is working on Spring Framework fulltime for developing complex applications and microservices for multiple clients. He also leads the development of Spring Lemon and CleanFlow.
He is currently the technical director of naturalprogrammer.com. Prior to that, he was working on developing large scale resilient applications with clients like Tomorrow and SwiftDil. Previously, he was a technical architect at RAD Solutions Private Limited, leading a research on open source tools, frameworks, patterns and methodologies for rapid application development. He also was a project leader at Cambridge Solutions and an assistant manager at L & T Limited. He is an MCA from Osmania University and a B. Sc. (Physics) from Sambalpur University, India.
He is also the author of many real-world books and tutorials around Spring.
Bio: https://www.upwork.com/freelancers/~01ee5ef97bc7ab24da
GitHub: https://github.com/naturalprogrammer
Stackoverflow: http://stackoverflow.com/users/1075051/sanjay
LinkedIn: https://linkedin.com/in/sanjay9
DZone: https://dzone.com/users/1211183/skpatel20.html
Youtube channel: https://www.youtube.com/user/goodvideotutorials
Videos at Udemy: https://www.udemy.com/u/sanjaypatel10
Videos on Teachable: https://www.naturalprogrammer.com/courses
Facebook: https://www.facebook.com/skpatel20
Email: info@naturalp…
GMail: skpatel20